Years before the arrival of James Brooke, Cantonese migrants had begun to settle in the wild country that would one day become Kuching. Pioneers such as Lau Chek (刘直), who had arrived in the 1830s, sought to organise a clan association to bring together their countrymen from Guangzhou (Canton), Huizhou and Zhaoqing. The Kwong Wai Siew Association was founded in 1854, the first of its kind in Sarawak.
In accordance with the Societies Order introduced by the Sarawak Government, the association became a registered society in 1914. It was based at No. 12 Carpenter Street, said to be a gift from the second Rajah in 1873. To cope with growing needs, a third storey was added to the original shophouse in 1917. In 1918, the ground floor of the association was converted into the classrooms of the newly-founded Yik Kwan School (益群学校). After the Second World War, Yik Kwan joined with other Chinese-language schools to form the Kuching Chung Hua Schools. Also in 1946, the association was changed to its current name.
The association building on Carpenter Street houses a shrine of Kuan Ti (or Guan Di, 关帝) and is often referred to as Kuan Ti Temple (关帝庙) by the Cantonese. On the centenary of Kwong Wai Siew Association in 1953, the association established a lion dance troupe that remains one of the most notable of its kind in Kuching.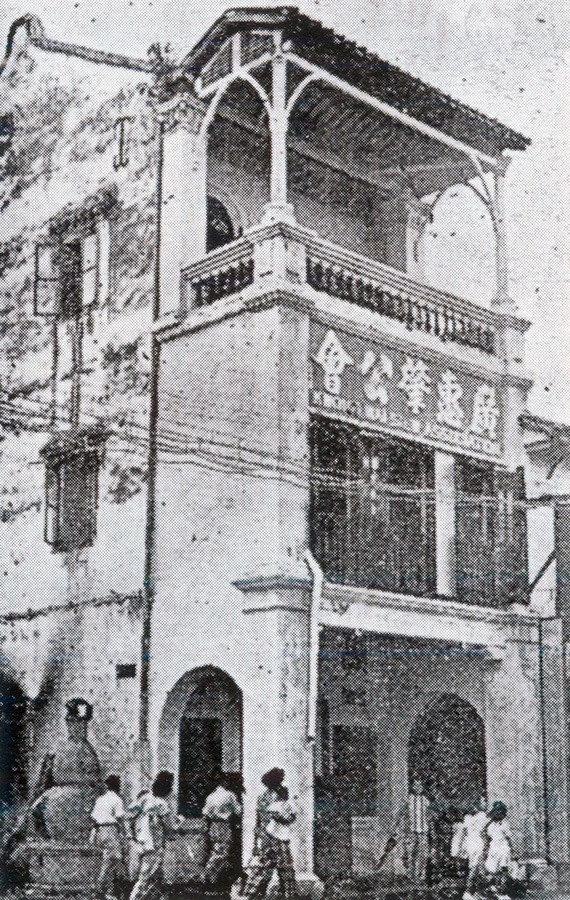 广惠肇公会
广东人南来的历史早于白人拉者詹姆士布洛克,比如1830年刘直及其同乡就已经来到古晋,当时的古晋还是初开发的蛮荒之地。到了1854年,刘直等人筹组广惠肇公会,以凝聚来自广州、惠州和肇庆的同乡,这是砂拉越历史上最早的华人会馆。
1914年,配合拉者政府新推出的社团法令,广惠肇公会以"南洋砂拉越广惠肇会馆"的名义注册,会馆就设在亚答街门牌12号,相传这店屋是第二任拉者在1873年赐赠的。到了1917年,由于原空间不敷应用,会馆加盖一层成为三层楼的大厦,也就是今天所见。隔年,广惠肇会馆创办了益群学校,会馆底楼即成为课室。二战以后的1946年,益群学校响应古晋华校统筹统办的概念,纳入古晋中华学校。也在那一年,该会更名为"广惠肇公会"。
在亚答街的老会馆内,由于供奉着广府人最普遍的民间信仰——关圣帝像,因此老广府皆将广惠肇公会称为"关帝庙"。1953年,适逢广惠肇创会百周年,该会成立系出佛山的瑞狮队,至今仍然是古晋有名的狮队。