Ong Ewe Hai was a leader of Sarawak's earliest Hokkien immigrants and the patriarch of an influential family – one of three powerful Chinese clans of early Kuching, that produced many prominent figures in business and politics. He migrated from Singapore to Kuching, and around 1885, built a 2-storey mansion up on a hill along Wayang Street. The large, geomantically auspicious house overlooked Kuching old town, the Sarawak River and beyond.
In front of the mansion was a courtyard enclosed by low walls inlaid with jade green glazed ceramic tiles. A Chinese-style horned archway stood at the entrance of the courtyard, leading down to what is now known as Bishop's Gate and Carpenter Street.
Three generations of Ongs lived in the house, from the prominent Ong Ewe Hai himself, Ong Tiang Swee (prominent Chinese community leader), Ong Guan Hin (prominent Chinese community leader) and Ong Kee Hui (a Malaysian Chinese politician). The success of Ong Ewe Hai, as a trader in construction and agricultural products (Ong Ewe Hai & Company), are evident in the row of commercial shophouses he built, which was later named Ewe Hai Street.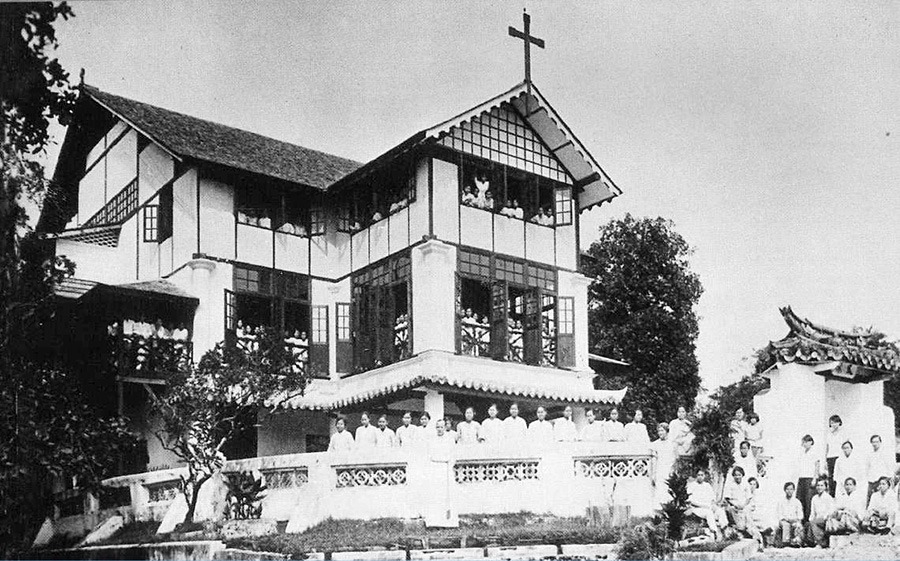 In 1933, descendants of the Ong family sold the family mansion to the Anglican Missionary for a few thousand dollars. The building, with a newly added third floor, became the boarding house of St Mary's Girls School, housing around 100 boarders, mostly from outstation areas of Sarawak.
After it ceased operation in 1968, the building served as the Anglican Diocese guest house. The Chinese-style arch was pulled down in the 1990s to accommodate a new road (the current Jalan Wawasan) connecting Wayang Street with Padang Merdeka. In 2013, the historic house underwent restoration works and was converted into The Marian (a boutique lodging house), named in honour of the ex-boarders of St. Mary's Girl's School.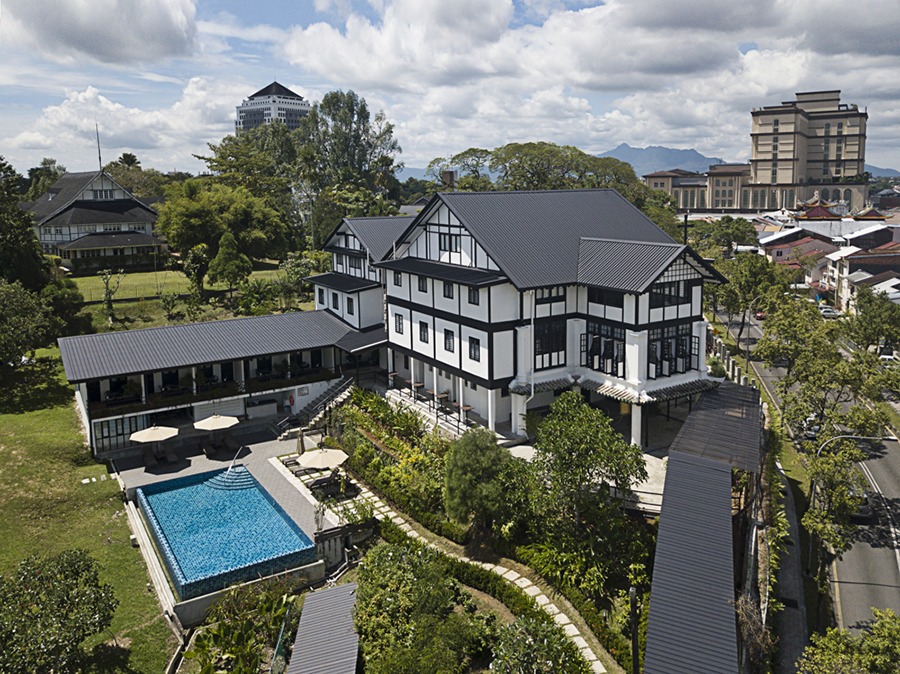 ---
王友海故居
王友海是砂拉越第一代福建侨领,王家也是最早的华人三大家族之一,家族中出过许多政商界的要人。他从新加坡越洋抵达古晋,并在1885年前后,王友海在花香街的山丘上重金建设一栋双层豪宅,可以远眺砂拉越河及彼岸风光,也可以俯视山脚下由其所承建的友海街店屋,是一个视野辽阔的风水宝地。
王家宅院的正前方是一个院子,院子四周是低矮的墙壁,墙壁上镶嵌着翠绿色的透雕瓷砖,而院子的入口则是典型的中国式拱门。从拱门走出去,可以经由今日的主教门,抵达亚答街。
王家三代人都居住在豪宅中,包括王友海本人,其公子王长水(华人总甲必丹)、孙子王观兴(华社领导)和曾孙王其辉(马来西亚的政治领袖)等。王友海创办的友海公司经营土产杂货买卖,也从事建筑业,打造了友海街上的两排店屋。
1933年,王家后人将这栋豪宅以数千元脱售给英国圣公会作为圣玛丽学校的宿舍,同时添加了第三个楼层,超过100位从砂拉越其他省份来的寄宿生曾经居住在老房子内。
到了1968年,这栋房子开始作为教会的宾馆用。1990年代,为了开通道路贯穿花香街和独立广场,房子的中式拱门被迫拆除。2013年,老房子进行严谨的修复工程,而后作为Marian精品旅馆至今,为纪念圣玛丽女子学校的前寄宿生而命名。