In the late 19th century, cargo ships between Kuching and Singapore formed Sarawak's main connection to the wider world. Godowns (warehouses) and wharves dotted the bank of the Sarawak River; sun-parched workers toiled at the edge of land and water. These labourers came to be called coolies, from Malay kuli.
Wharf workers organised themselves into small crews, each with a leader who arranged work. Different crews often squabbled or fought over jobs. In 1948, the Kuching Wharf Labourers' Union was established to better coordinate work between wharf workers. The union also campaigned for workers' benefits such as overtime pay and poverty assistance.
The union's achievements gained the trust and support of wharf workers, who agreed to contribute their overtime pay to the union's funds. The Wharf and Port Labourers Building at No. 22 Carpenter Street, acquired by the union in 1953, stands as a witness to the workers' collective endeavour.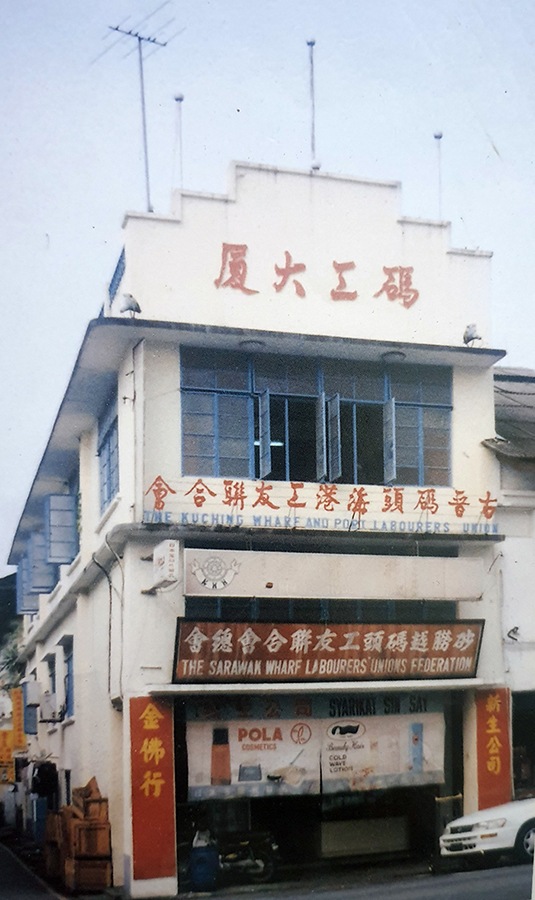 码工大厦
早在19世纪后期,砂拉越就有往返古晋与新加坡的货轮,砂拉越河畔也建了很多货仓和码头。在还未采用机械卸货的年代,常见的景象是晒得肤色黝黑的码头工友,扛着沉重的货物在码头和货仓之间忙碌工作,人们把这些工友称为苦力,源自英文coolie或马来文kuli。
这些码头工友分成很多小组织,由个别的工头带领,经常为了争夺工作而发生摩擦或打斗。1948年,古晋码头工友会宣告成立,以协调码头工友之间的工作,并向当局争取工友们应有的福利,如超时津贴、贫困福利等。
码头工友会的积极作为,赢得码工们的高度信任与支持,大家同意将超时津贴捐献给工会作为资金,促成在1953年,码头工友会买下亚答街22号店屋作为永久会所,这可是码头工友点滴汇聚而成的心血,展现了来自草根群众的力量。