Hong San Si Temple stands at the intersection of Wayang and Ewe Hai Streets. The old temple, managed by the Kuching Hockien Association, consists of a main hall, a side hall and a stage totalling 8,123m². It is dedicated to Kong Teck Choon Ong (广泽尊王), a tutelary deity revered in Shishan town of Nan'an in Fujian, China, known among the Hokkien as Seng Ong Kong (圣王公).
The founding of the temple could not be traced; oral accounts claim that it had existed as a small shrine as early as 1848. An inscription inside the temple records that it had been rebuilt in 1897 with money donated by leading Hokkien figures, and gives the name of its street as "Hock Soon Street" (福顺街). The temple underwent extensive renovations in 1985 and 2002.
In addition to engendering the Hockien Association, the temple may well mark the spot where the earliest Hokkien pioneers had settled in Kuching. Each year on the 22nd day of the 2nd lunar month the temple organises a parade to celebrate the birthday of its patron deity. The crowd-drawing spectacle of the Seng Ong Kong procession is one of Kuching's major cultural events.
For more information, visit https://hockien.net.my/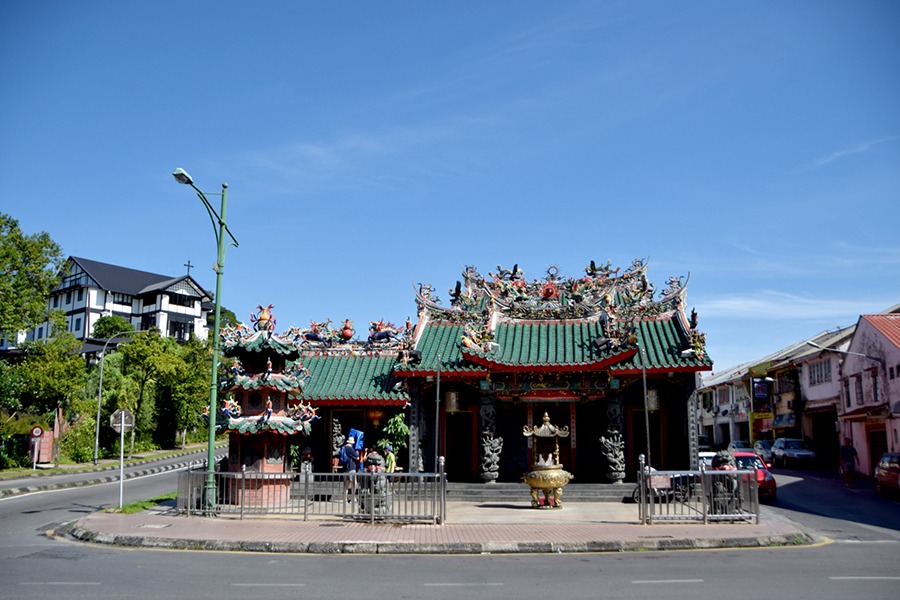 凤山寺
凤山寺位在花香街和友海街的交界处,是由古晋福建公会所管理的古庙,占地面积8,123平方公尺,由一个主庙、一个侧庙和一个戏台所组成,供奉的主神为广泽尊王,是中国福建省南安诗山威灵显赫的地方神,福建人称之为"圣王公"。
这座古庙始建于何时无从查考,根据口述历史早在1848年已经出现于现址,当时只是一座小庙。根据庙里碑记的记载,1897年(光绪23年)凤山寺进行重建而形成今日的面貌,碑记上也注明这座庙位于"福顺街",而当时出钱修建庙宇的包括古晋著名的福建商人们。此后,凤山寺还曾经先后在1985年和2002年进行大幅度修建。
古晋福建公会即滥觞于凤山寺,可依此判断古庙所在的位置,即福建先民南来古晋后最早的落足点。每年农历二月廿二日圣王公诞辰,圣王公出游巡辛是古晋重要的传统活动,吸引无数民众的参与和观赏。