Author (Mandarin): Helen
Translator: Kairos Wong
Turning into the quiet Upper China Street, one might notice a pair of old wooden doors with their red duilian, two glass louvre windows that characterise Nanyang colonial architecture, a blue sign announcing the name of the shop – Nam Hua Hair Barber Centre.
Inside, two large barber chairs, a row of wall mirrors, an old television set and a metal bucket with an attached faucet just about fit into the less-than-100 sq ft barbershop. Laid out in front of the mottled mirrors are the traditional tools of the trade: hair clippers, straight razors, brushes and talcum powder. The room seems suffused with a bygone air.
80-year-old Chai Ko Yin is the owner of the shop and its only barber. He nimbly brushes talc onto a customer's cheeks and, with a few deft motions of the straight razor, shaves the face smooth. Taking out a long cotton bud, he begins to clean the customer's ears.
"Shaving, ear cleaning – new barbershops don't do these anymore." Mr Chai says with a smile, "But only locals get these special services!"
Aside from old regulars and local residents, Mr Chai's clientele include young people and foreign tourists looking to experience the traditional trade. A round of service costs RM13 for locals and RM19 for foreigners.
Without tourists, business has taken a hit during the pandemic. A stillness has fallen upon the shop. The fan whirs, the clock ticks the minutes, the view outside the louvre windows unchanging save for sporadic passersby.
The octogenarian's black hair is his own dye job, a service he occasionally performs for old regulars – his only concession to changing times.
"Who dyes their hair 60 years ago?" he says. In six decades of practice he has neither pursued nor shied from popular trends. "The shears are in your hands, you have to flexible." Taking the customer's existing hairstyle as his basis, he can produce a stylish cut for any face shape. "The current trend is long on top, shaved in the back – well, it makes my job easier!" Mr Chai chuckles.
Haircut as Vocation
Chai Ko Yin's lifelong vocation began with a single decision.
At 17, Chai Ko Yin was an apprentice at a restaurant. Taken by his boss to get a haircut one day, he was struck by the skill of the barbers. "How neat are their cuts!"
He asked his father to let him study hair cutting, and was soon enrolled in the then-renowned Pek Lim Barber Saloon at No 41 Main Bazaar, where he received his certificate and began his 63-year trade.
Instructors at Pek Lim Barber Saloon came from Hong Kong and Shanghai and taught both male and female students: men learned male hairstyles while women learned to perm hair. After graduation, Chai Ko Yin was sent to the salon's Miri branch where he worked for a few months before homesickness drew him back to Kuching.
Back in Kuching, he was employed in various barbershops in Sungai Maong (eight months), on Carpenter Street and China Street (over 20 years) and at Jiau Hairdressing & Beauty Centre (five years). In the early '90s he decided it was time to open his own business. The name "Nam Hua Hair Barber Centre" was registered and the shop was set up at No 51 Upper China Street, later moving to No 38 on the first floor. Six years ago the business relocated downstairs, making No 22 Upper China Street its home.
Now in his golden years, the old Hakka barber has remained dedicated to his craft. Arriving early in the morning from Matang, he would get the shop ready for business, make some coffee and wait for his regulars to drop in. He seems unfazed by competition from the nearby Indian barbershops with their cheap, quick cuts; his barbershop, after all, has stood the test of time while others flourished and faded. "The customer's satisfaction is most important!" remains his golden rule.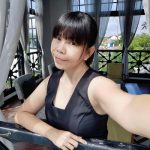 Writer: Helen Ten
Master of Arts in Chinese Language and Literature, former feature writer, now works as a freelance writer, focus on the beauty of Sarawak.